Last year we announced a new partnership with Arc Skoru Inc. – a U.S. Green Building Council affiliated company – to help rate the operational performance of buildings through indoor environmental monitoring.
Arc scores two dimensions of Human Experience: perceived occupant satisfaction and measured indoor air quality. Together, these elements provide basic insights into how occupants feel in the space and some of the factors that may contribute to their experience. Design intent does not always match up to operational reality, so measuring air quality outcomes is essential in all types of spaces.
There are many great solutions for surveying occupants, ranging from Arc's simple smiley faces to sophisticated instruments developed by groups like the Center for the Built Environment at the University of California, Berkeley.
Arc also has tools to measure key aspects of indoor air quality. For most facility managers, this means "spot checks", most often taken once per year with hand-held instruments. These measurements provide some information about indoor conditions; however, we know that indoor air quality can vary significantly over space and time. Annual spot checks are unlikely to detect important changes in conditions, such as CO2 build-up during high occupancy or TVOC spikes associated with new furniture or cleaning. These spikes can harm the health of occupants, and are a key player in the overall health of a space.
To ensure that indoor air quality remains consistently safe, continuous measurement from a sensor network offers the promise of quicker, more actionable information.
That's why we partnered together, to take a step toward this reality. Arc users now have exclusive access to the Arc  "Starter Kit", part of arbnco's set of indoor environmental quality solutions. We have been working together since 2018 to allow buildings all over the world to measure and improve indoor environmental quality. While Arc enables rapid assessment of building operation through easy-to-understand scores, arbnco enables the automated population of your human experience scores.
Introducing the Arc Starter Kit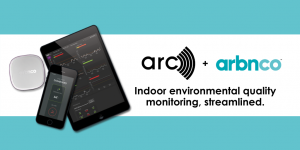 The Starter Kit provides a turn-key solution for project teams to explore the use of continuous sensing to improve indoor environmental quality and automate the flow of sensor data to Arc. The Starter Kit provides two arbnco AQ+ sensors, access to an online performance dashboard, and simple, pre-configured integration with Arc.
The Starter Kit is recommended for smaller interior spaces, such as those less than 20,000 square feet (approximately 1,900 square meters). The Starter Kit can be self-deployed by most users, and it communicates through a user's local WiFi network. The Starter Kit comes with an installation guide and templates for LEED submittals.
See if the Starter Kit is right for your space.
The Starter Kit is just that, a place to start. Larger or more complex facilities will want to consider how to design, deploy and operate more extensive networks to understand and manage indoor environmental quality. Reach out to us directly at [email protected] to discuss how our sensors can help you automate data on any scale and streamline the process towards LEED certification and recertification.